Best Computer Science Schools in Indiana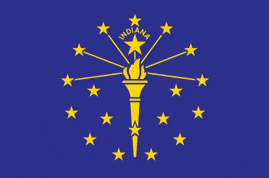 Research the top computer science schools in Indiana.
Beyond its quaint, affordable cities and friendly residents, Indiana is renowned for its higher education system featuring top-tier schools like Purdue University, Notre Dame and Indiana University. These schools offer some of the most innovative and valuable computer science programs in the Midwest.
This page will explore the best computer science schools in Indiana, as well as online comp-sci programs in The Hoosier State. We'll also take a look at potential career outcomes for in-state graduates, including the top paying cities and IT careers in Indiana.
Find top-rated computer science schools.
Best CS Schools in Indiana
Compare the top-ranked computer science schools in Indiana.
Purdue University
Voted one of America's most innovative universities by US News and World Report for 4 years running, Purdue University is the top-ranked computer science school in Indiana. Purdue's penchant for innovation is a major boon to its computer science program, facilitating undergrad and graduate degrees in cutting-edge technical domains.
Grad & Undergrad Comp-Sci Programs in:

Computational Science and Engineering
Machine Learning and Artificial Intelligence
Software Engineering & Computer Programming
Computer Graphics and Visualization
Data Science and Analytics
Information Security

Campus Locations:

Purdue Flagship Campus: 610 Purdue Mall | West Lafayette, IN 47907
University of Notre Dame
One of the nation's most prestigious universities for undergraduate studies, Notre Dame earns it's reputation for excellence in research and innovation. This distinction is fortified in the school's College of Engineering, where students develop into future leaders of computer science in academia, government and industry.
CS Bachelor's and Master's in:

Computer Science and Engineering
Data Science and Artificial Intelligence
Human-Computer Interaction & Visualization
Computer Architecture and Systems
Software Engineering

Campus Locations:

College of Engineering: 384 Fitzpatrick Hall | Notre Dame, IN 46556 USA
Online CS Schools in Indiana
These top online computer science schools are currently accepting Indiana residents.
Purdue University Global
Purdue University Global offers online computer science certificates and degree programs designed to take your career to the next level.
Featured Computer Science Programs:

Associate in Network Administration
Associate in Programming & Development
Bachelor's in Video Game Development
Bachelor's in Health Information Management
Southern New Hampshire University
SNHU's online computer science programs feature experiential learning and hands-on projects to provide the skills needed for success in the modern IT landscape.
Undergraduate & Graduate Programs in:

Computer Science and Engineering
Business Intelligence & Analytics
Graphic Design & 3D Animation
Information Security
Top Paying Tech Careers in Indiana
For those who decide to work in-state after finishing computer science school in Indiana, here's how much you can earn in the state's best paying IT roles.
Source: U.S. Bureau of Labor Statistics
Regional IT Pay in Indiana
These Indiana cities and metropolitan areas pay the top salaries to IT pros and engineers.
| Location in Indiana | Hourly IT Wage | Annual IT Wage |
| --- | --- | --- |
| Columbus, IN | $43.22 | $89,900 |
| Indianapolis-Carmel-Anderson, IN | $40.52 | $84,290 |
| Fort Wayne, IN | $36.83 | $76,610 |
| Lafayette-West Lafayette, IN | $36.21 | $75,320 |
| Bloomington, IN | $36.04 | $74,970 |
Source: U.S. Bureau of Labor Statistics
Frequently Asked Questions
Here are some common questions from prospective comp-sci students in Indiana.
Which Indiana college is best for computer science?
Purdue University in West Lafayette is the best computer science school in Indiana, according to our independent research and the latest ranking from US News & World Report.