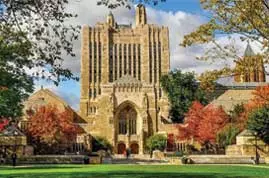 Research the top computer science schools in Connecticut.
As a national leader in key prosperity metrics like safety, inclusiveness, health, education and natural environment, Connecticut is a great place to call home. Especially for those who make a good living, as The Constitution State is one of the most expensive states when it comes to real estate, taxes and other living expenses. With multiple top-ranked colleges and universities, Connecticut is also a great place to pursue an education, notably in a lucrative and fast-growing field like computer science and information technology. The best computer science schools in Connecticut include Yale University in New Haven, the University of Connecticut in Storrs, and Wesleyan University in Middletown, CT.
This page will explore the top-ranked computer science schools in Connecticut, as well as the top online computer schools for Connecticut residents. We will also examine potential career outcomes for computer science graduates in CT, including the state's top paying cities and computer science career paths.
Best CS Schools in Connecticut
Compare the top-ranked computer science colleges in Connecticut.
Advisors can provide more info about programs and curriculum, admission requirements, tuition fees and financial aid options for computer schools in Connecticut.
Yale University
Yale is a premier member of the Ivy League - a group of the eight most renowned universities in America - and one of the world's best institutions for research and higher education. Yale is also the top-ranked school for computer science in Connecticut. CS students at Yale benefit from one the leading interdisciplinary comp-sci programs, collaborating closely with world-class professors, researchers and students in other departments such as mathematics, engineering, psychology, economics, business, music, medicine and linguistics. This collaboration drives some of the biggest breakthroughs in computer science and beyond.
Computer science programs:

B.A. or B.S. Computer Science
Combined Undergraduate CS Degrees

Electrical Engineering and Computer Science
Computer Science and Mathematics
Computer Science and Economics
Computer Science and Psychology

M.S. Computer Science
Ph.D. Computer Science
Certificate in Programming

Campus Location:

Yale University | Dept. of Computer Science | New Haven, CT 06520
University of Connecticut
University of Connecticut's main campus in Storrs is known for its powerhouse D1 athletics program, dedication to research and innovation, school pride and student-first focus. UConn's Department of Computer Science and Engineering (CSE) is one of the school's fastest growing segments, and features state-of-the-art teaching facilities, world-class instruction, and computer science and engineering degrees accredited by ABET's Engineering and Computing Accreditation Commissions - a key factor when assessing the job-readiness of a technical degree. Available computer science research areas include machine learning, cybersecurity, networking, software engineering, data mining and more.
Comp-Sci undergraduate programs:

Computer Science and Engineering
Computer Science
Computer Engineering
5-Year Bachelor's + Master's in CS, CE or CSE

Comp-Sci graduate programs:

Master of Engineering in Computer Science and Engineering
Master of Engineering in Data Science
Master of Science in Computer Science
Computer Science Doctoral Program
Engineering Data Science Certificate

Campus Location:

UConn CSE Dept. | 371 Fairfield Way, Unit 4155 | University of Connecticut | Storrs, CT 06269-4155
Top-Paying Computer Science Roles in Connecticut
Here's how much you can earn in the top-paying computer science careers in Connecticut.
Source: U.S. Bureau of Labor Statistics
Regional Pay for CS Pros in Connecticut
These Connecticut cities and metropolitan areas pay the top salaries to computer science and information technology professionals.
| Location in CT | Avg. Hourly Wage | Avg. Annual Wage |
| --- | --- | --- |
| Bridgeport-Stamford-Norwalk, CT | $51.80 | $107,750 |
| Hartford-West Hartford-East Hartford, CT | $47.65 | $99,110 |
| Norwich-New London-Westerly, CT-RI | $44.33 | $92,210 |
| New Haven, CT | $43.31 | $90,080 |
| Danbury, CT | $43.23 | $89,920 |
Source: U.S. Bureau of Labor Statistics
Frequently Asked Questions
Answers to FAQs from prospective computer science students in Connecticut.
Is UConn good for computer science?
Yes, the University of Connecticut in Storrs has a good computer science program, and is ranked 2nd in CT (behind Yale University). US News & World Report also ranks UConn as the 65th overall best computer science school in the nation.
Which college in Connecticut has the best computer science program?
Yale University is the top-ranked computer science school in Connecticut. Additionally, US News & World Report ranks Yale 16th in the nation for undergraduate CS programs, and 20th for computer science graduate programs.
Online Computer Schools in Connecticut
These top-rated online computer science schools are currently enrolling students in CT.
Request info to learn more about online computer science degrees, start dates, tuition fees & financial aid options.
Southern New Hampshire University
Top Computer Science Programs:
Capella University
Top Computer Science Programs:
Search IT courses and degree programs by job role, technology platform & major.