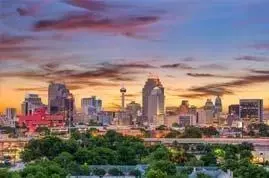 A guide to the best computer schools and IT training providers in San Antonio, Texas.
San Antonio, the second-largest city in Texas, is a hub of history, culture, and more recently, technological innovation. This vibrant metropolis is making a name for itself in the high-tech sector, driven by its burgeoning downtown tech district, "smart" urban development projects, and growing network of technical training providers. For those looking to begin a career in computer science or IT, San Antonio boasts a diverse range of top-notch computer schools to consider.
This page will provide an overview of the best computer schools in San Antonio, highlighting some of the most relevant training programs at each. We'll also examine potential career outcomes for technology professionals in Alamo City.
Featured Online IT Programs
Top Computer Science Colleges in San Antonio
The best colleges for computer science near San Antonio are the University of Texas at San Antonio, Texas State University in San Marcos, and UT Austin. These schools were chosen based on multiple factors, including school reputation, relevance of IT curricula, student outcomes according to the NCES, and overall value.
Let's examine these colleges and some of their top computer and IT programs.
University of Texas at San Antonio (UTSA)
UTSA has a world-class computer science and technology program, especially when it comes to cybersecurity, arguably the hottest field in the IT workforce. To this point, UTSA is one of only a few schools in the nation to hold all 3 National Center of Academic Excellence designations from the DHS and NSA: CAE-Information Assurance Research, CAE-Cyber Defense, and CAE-Cyber Operations.
Top Computer and IT Programs:
BS in Computer Science - Cybersecurity
BS in Computer Science - Cyber Operations
BS in Computer Science - Cloud & Systems
Master of Science in Cybersecurity
Texas State University (TXST)
Offering well-designed undergraduate and graduate programs in computer science and IT, Texas State is a solid choice for aspiring tech professionals near San Antonio. Both its College of Science & Engineering and McCoy College of Business offer tech-centric degree programs with coursework in sought-after domains like computer information systems, hardware engineering, and software development.
Top Computer and IT Programs:
BBA in Computer Information Systems (CIS)
Bachelor of Science Computer Science
Bachelor of Arts in Computer Science
MS in Computer Science - Data Science
University of Texas at Austin (UT Austin)
Though it's roughly a 1.5-hour drive from San Antonio, we couldn't neglect to mention UT Austin - the best computer science school in Texas. Computer and engineering students at UT Austin benefit from state-of-the-art facilities and expert instruction in hot and emerging domains such as artificial intelligence, machine learning, robotics, mobile computing, and big data analysis.
Top Computer and IT Programs:
BSA in Computer Science
BS in Computer Science - ML & AI
BS in Computer Science - Big Data
Master's of Artificial Intelligence
Related: Best Computer Science Schools in Texas
Online Computer Colleges in San Antonio
These accredited online colleges are currently accepting applications in San Antonio.
Top Computer Courses in San Antonio
Computer courses and accelerated bootcamps are tailored to meet the immediate needs of employers, enabling a quick transition into the workforce. These programs offer a streamlined and practical approach to acquiring tech skills and IT certifications, often in a shorter time and for less money than traditional college degrees.
Given the city's proliferating tech scene, students at San Antonio computer schools can benefit from regional networking opportunities and training providers' partnerships with local companies, providing a clearer path to an IT career.
Considering training provider reputation, career-readiness of skills learned, program features, value and flexibility, the best computer training schools in San Antonio are ACI Leanring and DevMountain.
ACI Learning - San Antonio
ACI Learning is a deservedly respected computer school in San Antonio, providing hands-on training in cyber security, project management, and exam prep for valuable IT certifications. Students at ACI also receive personalized mentoring, access to virtual labs and quizzes, resume-building assistance, LinkedIn profile optimization, and networking opportunities with local tech employers.
Top Computer and IT Programs:
Computer User Support Specialist
Information Security Analyst
Network Support Specialist
Senior Technology Project Manager
DevMountain - San Antonio
For the past decade, DevMountain has been providing top-tier coding bootcamps from its TX campuses in San Antonio, Houston, Fort Worth & Dallas. DevMountain specializes in immersive web development and user experience (UX) design courses that utilize a community-based learning approach that enables collaboration with peers and valuable industry connections.
Top Computer and IT Programs:
Web Development Bootcamp
UX Design Bootcamp
Top Online Computer Courses in San Antonio
Alamo City has a diverse selection of online courses and bootcamps for aspiring IT professionals. These top-reviewed programs are currently enrolling students in San Antonio.
Computer Jobs & Salaries in San Antonio, TX
With its up-and-coming downtown tech district and diverse selection of computer schools, San Antonio is quietly becoming a destination for career-minded IT professionals.
The average salary for computer occupations in San Antonio, Texas is $91,270, per the latest data from the U.S. Bureau of Labor Statistics.
Here are some popular computer jobs and salaries in the San Antonio metro area:
| Computer Job | # of Positons | Avg. Salary |
| --- | --- | --- |
| Help Desk Technician | 5,080 | $54,220 |
| Software Engineer | 4,630 | $113,600 |
| Computer Systems Analyst | 2,910 | $101,330 |
| Network Administrator | 2,400 | $86,960 |
| IT Security Specialist | 1,150 | $112,180 |
| Data Scientist | 760 | $103,520 |
| Computer Programmer | 540 | $87,450 |
Source: U.S. Bureau of Labor Statistics