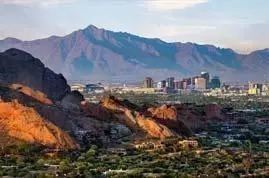 Compare the best campus and online computer schools near Phoenix, Arizona.
The anchor of a proliferating metro area that just surpassed 5 million residents, Phoenix's dedication to technological advancement is reflected in its growing hub of tech companies in hot industries like fintech, logistics, aerospace, and telecommunications. Reflecting this commitment, the city boasts a variety of top-tier schools for computing and IT.
This page will list the best computer schools in Phoenix - both colleges and technical training providers - and highlight some of the top programs at each. We'll also explore potential jobs and salaries for technology professionals in PHX.
Featured Online IT Programs
Top Computer Colleges in Phoenix
The best computer schools near Phoenix include Grand Canyon University in Phoenix, Arizona State University in Mesa, and Phoenix College. Our selection criteria included school reputation, relevance of IT curricula, campus features, and overall value.
Let's take a closer look at these schools and some of their top programs in computing and IT.
Arizona State University (ASU)
Ranked the #1 most innovative university in the nation by U.S. News & World Report for nine years and counting, ASU has a lot to offer aspiring tech professionals. Arizona State features a diverse selection of bachelor's, master's, and doctorate degrees in computer science. The Ira A. Fulton School of Engineering, home to many of ASU's technology programs, is located in Mesa, AZ, however, the school maintains state-of-the-art campuses in Downtown Phoenix, Tempe and Havasu, as well as an online school with robust IT offerings.
Top Computer and IT Programs:
BS in Software Engineering
BS in Computer Information Systems
Master's of Computer Science (MCS)
Ph.D. in Computer Science
Grand Canyon University (GCU)
With over $1B invested into infrastructure and technology over the past decade, GCU's Phoenix campus has earned many accolades, including being named the #1 college campus in Arizona for 2023 by Niche.com. Its College of Science, Engineering and Technology features well-designed undergraduate and graduate computing degrees with desirable majors like business and entrepreneurship, cybersecurity, data science, and software engineering. GCU also boasts a top-tier distance learning program with a curated selection of online tech degrees.
Top Computer and IT Programs:
Bachelor of Science in Cybersecurity
BS in Computer Science - Big Data Analytics
Master of Science in Computer Science
Master of Science in IT Management
Phoenix College (PC)
Serving students in Maricopa County since 1920, Phoenix College is the top community college in The Valley. The Maricopa IT Institute at Phoenix College offers a deep catalog of accredited certificates and associate degrees in fields like cloud computing, mobile development, cybersecurity, and web design. Additionally, its career-focused programs prepare students for valuable IT certifications from globally recognized vendors including CompTIA, Microsoft, VMware and Linux.
Top Computer and IT Programs:
Certificate in Cloud Computing
Cisco Certified Network Administrator
AAS in Mobile Application Development
AAS in Network Systems & Administration
Related: Best Computer Science Schools in Arizona
Online Computer Colleges in PHX
These accredited online computer schools are currently accepting applications in Phoenix.
Top Computer Courses in Phoenix
IT courses and bootcamps in Phoenix are rapidly gaining traction, offering an immersive education that bridges the gap between traditional computer science degrees and the evolving tech sector. With marketable topics ranging from cybersecurity and cloud computing to exam prep for IT certifications from top vendors like CompTIA, Microsoft and Cisco, these programs are designed to get beginners into an IT career quickly.
Factoring in school reputation, program features, cost and flexibility, the best computer courses in Phoenix are offered by Interface Technical Training and ONLC Training Centers.
Interface Technical Training
Interface Technical Training in Phoenix boasts 20+ years of experience delivering high-quality, instructor-led computer courses. With a focus on prioritizing students' needs, the school emphasizes practical applications of IT knowledge. Interface stands out for its commitment to student satisfaction, offering guarantees like course refunds or adjustments if a student isn't satisfied, flexibile rescheduling, and free class audits. Interface also partners with tech giants like Microsoft, CompTIA, PMI & ITIL to provide vendor-authorized IT certification prep.
Top Computer and IT Programs:
Microsoft Azure Training
Cisco Certification Training
Amazon (AWS) Cloud Training
Agile Project Management Course
ONLC Training Centers
ONLC is a national computer school offering IT classes from its Phoenix, AZ location. They also have Arizona campuses in Mesa, Scottsdale, and Downtown Tucson, in addition to live online training. ONLC features beginner to advanced computer courses in hot areas like computer programming, artificial intelligence, data analytics and cybersecurity, as well as IT certification prep for sought-after credentials from CompTIA, Microsoft, EC-Council, PMI, Linux and others. ONLC's focus on live instructor-led training and career-ready curricula places it among the best computer schools in Phoenix.
Top Computer and IT Programs:
CompTIA Certification Prep
Microsoft Certification Prep
IT Project Management Training
Artificial Intelligence (AI) Training
Online Computer Courses in PHX
Phoenix features a variety of online computer training for career-minded tech professionals. These courses and bootcamps are currently enrolling students in The Valley.
Computer Jobs & Salaries in Phoenix
Phoenix is home to an expanding hub of high-tech startups and major players in the industry. As such, computer jobs in PHX pay a premium wage.
The average salary for computer jobs in Phoenix, AZ is $99,260, according to the U.S. Bureau of Labor Statistics.
Here's how much you can earn in popular computer jobs in Phoenix:
| Computer Job | # of Positons | Avg. Salary |
| --- | --- | --- |
| Network Architect | 3,460 | $128,290 |
| Software Developer | 29,160 | $123,070 |
| IT Security Specialist | 2,870 | $110,700 |
| Computer Systems Analyst | 11,190 | $104,050 |
| Web Developer | 1,310 | $69,900 |
| Help Desk Technician | 17,770 | $60,930 |
Source: U.S. Bureau of Labor Statistics