IT Network & Security Training in DC Metro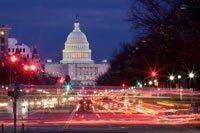 Recent technological advancements, record government spending and increased cyber security hiring to combat escalating threats are just some of the factors that have made Washington DC a leading hub for IT job growth. The Washington DC Metro Area – including Alexandria and Arlington Counties in VA, Jefferson County, WV and Montgomery and Frederick Counties in MD – boasts a range of accredited technical colleges and private computer schools to meet the growing demand for trained and certified technicians.
Computer networking and information security skills are in particularly high demand in the D.C. metropolitan area. Here are the top-reviewed training providers in the DC Metro area, and some of their most marketable network and security education programs.
Hot IT Programs in Washington D.C.
No schools currently match this criteria.
Click here
to search related schools.
InfoSec Institute has been delivering world-class IT networking and cyber security training to enterprises and individuals since 1998. InfoSec's subject matter experts utilize custom curriculum and real-world scenarios to teach Washington D.C. companies like USPS, George Washington University and the U.S. Department of Commerce.
Matching Programs:
DC Metro Campuses:
Dulles, VA
Baltimore, MD
Washington, D.C.
Live Online Training
Find Computer Training Schools