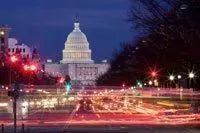 Recent technological advancements, record government spending and increased cyber security hiring to combat escalating threats are just some of the factors that have made Washington DC a leading hub for IT job growth. The Washington DC Metro Area – including Alexandria and Arlington Counties in VA, Jefferson County, WV and Montgomery and Frederick Counties in MD – boasts a range of accredited technical colleges and private computer schools to meet the growing demand for trained and certified technicians.
Computer networking and information security skills are in particularly high demand in the D.C. metropolitan area. Here are the top-reviewed training providers in the DC Metro area, and some of their most marketable network and security education programs.
Hot IT Programs in Washington D.C.
Compare networking and cyber security training programs offered in Washington DC or online to DMV residents.
Bachelor of Science in Cybersecurity
Includes Certification Preparation for:

CompTIA A+, Network+ & Security+

Gain the Skills and Credentials to Pursue Jobs in Cyber Security and Network Management
Information Security Tools and Techniques
Design, Build & Manage Secure IT Networks
Cyber Security Policy and Risk Management
IT Service and Process Management
Bachelor of Science in Network Technology: Cisco
Prepare for Cisco Networking Certifications
Design & Manage Cisco Wired / Wireless Networks
Network Security Threats & Countermeasures
Install and Support Telecommunications Systems
IT Project and Process Management Training
Explore Hot IT Topics inc. RFID Architectures, Enterprise Mobility & Cloud Computing
Master's in Technology Management
Prepare for Leadership Roles in Business and Information Technology
Business Intelligence and Data Analytics
Cyber Security Threats & Countermeasures
Cloud Computing and Virtual Data Centers
Globalization and the Modern IT Workforce
Computer Systems Analysis Tools & Techniques
Wield Emerging Technologies and IT Personnel to Achieve Business Goals
No GRE or GMAT Required for Admission
Search IT courses and degree programs by job role, technology platform & major.