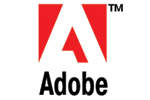 Workplace demand for digital media skills using Adobe's video, graphic and web design software is on the rise. Courses, degrees and certificates that feature training in the Adobe Creative Suite empower creative professionals with skills and credentials that demonstrate real-world design prowess. Universities, colleges and private design schools offer campus and online programs in Photoshop, Flash, Dreamweaver, Illustrator and the full line of Adobe digital design programs. Compare the top-reviewed Adobe training programs below.
Top-Rated Adobe Courses & Degrees
Compare the top-reviewed web and graphic design training programs featuring Adobe technologies and certifications.
Design School

Adobe Training Program

Course Highlights & Certifications

Method: Online Degree
Degree Level: Bachelor
Accredited School: Yes
Financial Aid Available: Yes

Work within Creative Demands to Produce High-End Designs in a Wide Range of Formats
Utilize the Adobe Creative Suite to Design Eye-Catching Web Graphics & Special Effects
Use Typography & 2D Print Design to Create Unique Marketing Flyers, Billboards & Logos
Master the Psychology of Color Choice & Layout Aesthetics to Design Innovative 3D Packaging
Harness Movement, Composition, Design, Color and Audio to Create Powerful Digital Videos

Method: Online Degree
Degree Level: Associate
Accredited School: Yes
Financial Aid Available: Yes

Print and Web Graphic Design Training in the Latest Adobe Programs: Dreamweaver, Flash, InDesign, Acrobat, Illustrator and Photoshop
Design Fundamentals and Color Concept
Digital Photography & Image Manipulation
Design Web 2.0 Websites and Social Hubs
Marketing Collateral, Brand & Logo Design
Perspective, 2D & 3D Drawing Techniques
Typography and Professional Presentations
Graphic Designer Digital Portfolio Packaging
Find Graphic Design Schools
Adobe Certification Resources
Adobe certifications provide creative professionals with invaluable credentials that prove real-world digital design prowess to prospective employers.