Help Desk Technician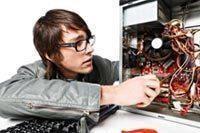 Help Desk Technicians provide technical support for PC end-users.
Help desk technicians are vital to the IT workforce, as they keep the technologies that organizations rely on to do business current, and running smoothly.
IT help desk technicians provide technical support and troubleshooting services to end-users who need assistance with their computer hardware or software. There are two chief types of help desk technician: In-house and Remote. Remote help desk technicians support technology customers via phone, online and occasionally on-site. In-house technicians only provide support for internal employees.
Help desk technicians need a deep understanding of computer hardware and software. Strong communication skills are also essential, as help desk specialists must be able to effectively communicate solutions to both technical and non-technical end-users. The IT help desk career path is ideal for methodical problem-solvers with an aptitude for learning and quickly adapting new skills. Patience, resourcefulness and a desire to help others are desirable virtues in technical support and help desk roles.
Many IT pros begin their career as help desk technicians because of the low experience and education requirements, then as they're exposed to new IT disciplines and technologies they discover their niche and branch out into other IT careers, such as network administrator, DBA or IT security specialist. Other technicians will remain at the help desk and leverage their experience to become a help desk technician manager.
a.k.a. Desktop Support Technician | Technical Support Specialist | Systems Administrator | Computer Support Engineer | IT Support Specialist | Field Service Technician | Enterprise Support Technician | Desktop Support Analyst
Help Desk Skills & Responsibilities
Typical day-to-day duties and in-demand skill sets for IT help desk technicians include:
Help desk technicians diagnose PC errors and provide technical support.
Help desk technicians troubleshoot software, hardware and network issues.
Help desk technicians train end-users how to setup and use new technologies.
Help desk technicians backup and restore an organization's data files and folders.
Help desk techs install, configure and upgrade PC software and operating systems.
Help desk technicians clean and repair computer hardware, such as keyboards and printers.
Remote IT help desk specialists provide technical support over the telephone or Internet.
Remote help desk technicians may use specialized help desk support software to take remote
control of end-users' computers to troubleshoot, diagnose and resolve complex issues.
---
Help Desk Technician Salary
Help desk technician average salary (USA): $46,000
| | |
| --- | --- |
| Help Desk Technician Salary $46,000 | |
Average starting wages for help desk technicians and related positions:
Help Desk Technician Tier 1 salary: $35,000
Computer Repair Technician salary: $37,000
Help Desk Technician Tier 2 salary: $43,000
Help Desk Technician Tier 3 salary: $52,000
End-User Support Specialist salary: $53,000
Desktop Support Specialist salary: $54,000
Technical Support Specialist salary: $59,000
Application Support Specialist salary: $63,000
Lead Help Desk Technician salary: $67,000
Windows Systems Administrator salary: $71,000
Technical Support Manager salary: $76,000
Senior Systems Administrator salary: $83,000
Senior Windows Administrator salary: $89,000
Senior Linux Administrator salary: $89,000
The hourly wage for help desk technicians ranges from $12 to $44 per hour, depending on location, specialty, experience and certifications held.
Explore a deep dive comparison of IT help desk & technical support salaries.
Source: Indeed.com

---
Help Desk Technician Education Requirements
A college degree is not typically required for entry-level help desk positions, however it may help you get the interview and job faster - and at a higher pay grade - than competing candidates with no degree. For those who pursue a formal education, degree programs in computer science, computer information systems (CIS), help desk administration, technical support and network administration all provide a solid base for the help desk technician career track. If you want an accredited education, but not an entire 2- or 4-year degree program, consider a career-focused certificate in PC repair or IT/help desk support.
Marketable skill sets to look for in a help desk technician education program include PC repair, network management, software installation, Windows deployment & configuration, information security fundamentals, desktop troubleshooting, and soft skills in customer service, oral & written communication skills. With the recent advent of sophisticated online simulations, and PC hardware packages that are mailed to students in online courses, help desk technician training works well in distance learning formats.
For help desk technicians, IT certifications offer a viable alternative or compliment to an accredited degree. CompTIA's A+ and Network+ certifications are an ideal place to start, as they introduce the fundamental IT domains, provide insight into IT infrastructure, and the A+ even includes a customer service component. The next step in your help desk technician certification plan may be mastery of a popular operating system; A+ and Network+ followed by Microsoft's MCTS: Windows 7 - Configuration and MCITP: Enterprise Desktop Support Technician 7 is a prime example of an effective help desk technician certification track.
Research and compare the top-rated help desk technician training programs online and in your area.
---
Help Desk Technician Training Programs
Browse the top-rated campus & online degrees, vocational certificates and self-paced courses matching the help desk technician education requirements and career path.
Computer School

Help Desk Training Program

Course Highlights & Certifications

A.A. Information Technology Support

Method: Online or On-Campus
Degree Level: Associate
Accredited Program: Yes
Financial Aid Available: Yes

Includes Certification Prep for:

MOS: Microsoft Word 2010
MOS: Microsoft Excel 2010
MOS: Microsoft Outlook 2010
MOS: Microsoft Access 2010
MOS: Microsoft PowerPoint 2010

Software - Configuration, Security, Optimization, Maintenance, File Management & Recovery
Hardware - Components, Architecture, Upgrades, Networking, Configuration and PC Repair
Skills and Credentials to Use/Support MS Office
Maintain & Troubleshoot Windows and MAC PCs
Study Online or at one of 200+ U.S. Locations
Targeted Six-Week Courses Begin Year Round

Method: Self-Paced Online
Degree Level: Coursework
Accredited Program: Yes
Financial Aid Available: Yes

Includes Certification Preparation for:
Select Hardware and/or Software Focus Area
Build and Repair Modern PCs from Ground Up
Windows Software/OS Setup and Installation
Computer Network Administration & Security
Full-Time Access to Virtual Computer Labs
Authoritative IT Text Books and Study Guides
Affordable Tuition and Interest-Free Payments
Career-Focused Curriculum plus a Verifiable Diploma in PC Service and Repair

A.S. Network Systems Administration

Method: Online or On-Campus
Degree Level: Associate
Accredited Program: Yes
Financial Aid Available: Yes

Provides the Skills and Experience to Pursue Entry-Level Network Administration Positions
Networking Fundamentals inc. LAN, WAN, OSI, TCP/IP, Internet Protocols & Troubleshooting
Cisco Network Design and Administration based on Cisco Networking Academy Curriculum
Windows 7, Unix and Linux OS Administration
Install and Configure Voice & VoIP Systems
Study Advanced IP Addressing Techniques
Network Telephony and Call Center Training
Traffic Management with Access Control Lists
Network Security and Cyber Crime Forensics
Effective Oral & Written Communication Skills

B.S.I.T. Networks Design & Mgmt.

Method: Online Degree
Degree Level: Bachelor
Accredited Program: Yes
Financial Aid Available: Yes

Includes Certification Prep & Exams for:

CompTIA A+, Network+, Security+ & Project+
MTA: Windows OS Fundamentals
MTA: Networking Fundamentals
MTA: Security Fundamentals
MTA: Web Development Fundamentals
CIW Web Foundations, Web Design
and JavaScript Specialist Certificates

Windows Client & Server Administration Training
Microsoft Network Systems Design and Analysis
Network Security Threats & Countermeasures
Essential Web & Software Development Skills
Team Leadership and IT Project Management
Award-Winning Online Education Platform

Method: Online or On-Campus
Degree Level: Associate
Accredited Program: Yes
Financial Aid Available: Yes

Includes Certification Prep & Exams for:

Cisco CCENT & CCNA Certifications

Earn the Skills and Credentials to Become an Entry-Level Cisco Network Professional
Led by Certified Cisco Systems Instructors (CCSI) using Official Books, Labs & Curriculum
Local and Wide Area Network Administration
Learn Network Security & Penetration Testing
Cisco Routing and Switching Implementations
Cisco Routing and Switching Management
Implement Virtual Private Network Solutions
Flexible 5-Week Classes Starting Year Round
Study Online or at one of 200+ U.S. Locations

B.S.I.T. Network Administration

Method: Online Degree
Degree Level: Bachelor
Accredited Program: Yes
Financial Aid Available: Yes

Includes Certification Preparation for:

CompTIA A+, Network+ and Security+

Prepares Graduates for Careers in Network Administration or Systems Administration
Microsoft Windows Administration featuring Active Directory & Group Policy Training
Learn Advanced Cisco Routing and Switching via Hands-On Labs and Simulations
Plan, Design, Analyze & Support Computer Networks and Information Systems
Network Security and Computer Forensics
Intro to Web Development & Programming
IT Project Management & Team Leadership
Customize from a Wide Range of Electives
Kaplan University Job Placement Services

Method: Online Degree
Degree Level: Master
Accredited Program: Yes
Financial Aid Available: Yes
Prerequisite: Bachelor's Degree

Provides the Skills to Pursue a Career as an IT Manager, Client Technology Manager or CIO
Prepare to Lead Organizations in the Planning, Development, Operation & Management of IT
Applied Managerial Accounting, Economics, Finance, Marketing & Decision-Making Courses
Led by Real-World IT Management Practitioners
Use IT to Foster a Real Competitive Advantage
Learn to Manage Relational Database Systems
Networking & Telecommunication Management
IT Innovation's Impact on Strategy & Operations
IT Management and Team Leadership Training
IT Management Capstone featuring Research, Analysis & Study of Real Business / IT Issues
CTU's Virtual Campus won Computerworld Honors "Best of the Best" Academia Award
---
IT Help Desk Certifications
Marketable certifications for help desk technicians and computer support professionals may include the following:
---
Help Desk Technician Jobs
Your IT help desk technician education, certifications and experience qualifies you for a variety of job roles:
---
Help Desk Technician Job Outlook
Employment of help desk technicians and computer support specialists is expected to increase by 18% from 2010 to 2020, faster than the average for all occupations. Increased demand for help desk technicians will result as organizations continue to adopt the newest forms of technology. As technology becomes more complex and widespread, PC repair & computer support specialists will be needed in greater numbers to resolve the technical problems that arise. Businesses and consumers will demand greater levels of technical support, as information technology continues to become an integral part of how we live, work and play.
Source: U.S. Bureau of Labor Statistics' 2012-2013 Occupational Outlook Handbook (BLS.GOV)
---
Related Career Paths
---
Subject Matter Expert Contributor