Network Administration Courses & Degrees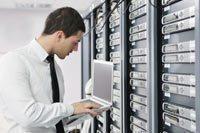 Network administrators, network engineers and network designers are among the most lucrative and fastest growing IT career paths.
Universities, colleges and private computer schools offer network administration degrees and certificates featuring coursework in the latest networks and telecommunications tools, techniques and best practices. Compare the top-reviewed network administration training programs in the U.S., Canada and online below.
Featured Networking Degrees
University of Phoenix partnered with Cisco Systems to create its exclusive Associate Degree in Cisco Networking. This degree covers the latest Cisco network technologies, business skills and credentials needed to launch your career as a Cisco networking professional. Graduates of this accredited program will become CCNA certified, for a tangible advantage in the field as well as the IT job market. Complete the entire program or attend targeted 5-week classes online or at one of UofP's 200+ U.S. campuses.
Program Highlights:
Includes Certification Prep & Exam Vouchers for:

Cisco Certified Network Associate (CCNA)
Cisco Certified Entry Network Technician (CCENT)

Skills and Credentials to Become a Cisco Networking Professional
Courses Taught by Certified Cisco Systems Instructors (CCSIs)
Learn using Official Cisco Books, Hardware Labs and Curriculum
Local Area Network (LAN)/Wide Area Network (WAN) Administration
Network Security Training with Ethical Hacking & Countermeasures
Implement and Manage Cisco Routers & Switches for Enterprises
Learn how to Configure Virtual Private Network (VPN) Solutions
Flexible 5-Week Classes Starting Year Round Online & On-Campus
University of Phoenix is an Authorized Cisco Learning Partner (CLP)
Attend Individual Courses for Targeted Skills and Certification Goals
Online or On-Campus
Associate
Yes
Federal, State, Military & Scholarships

Related Degree Programs at University of Phoenix:
Network Administration Courses, Degrees & Certificates
Research and compare accredited college degrees, IT certification boot camps and self-paced online courses matching the network administrator career path and education requirements.
Computer School

Networking Training Program

Course Highlights & Certifications

Method: Online or On-Campus
Degree Level: Associate
Accredited School: Yes
Financial Aid Available: Yes

Includes Certification Prep & Exams for:

Cisco CCENT Certification
Cisco CCNA Certification

Earn the Skills and Credentials to Become an Entry-Level Cisco Networking Professional
Led by Certified Cisco Systems Instructors (CCSI) using Official Books, Labs & Curriculum
Local and Wide Area Network Administration
Learn Network Security & Penetration Testing
Configure & Manage Cisco Routers/Switches
Implement Virtual Private Network Solutions
Flexible 5-Week Classes Starting Year Round
Study Online or at Over 200 U.S. Campuses
Targeted 6-Week Courses Begin Year Round

Method: Online Degree
Degree Level: Bachelor
Accredited School: Yes
Financial Aid Available: Yes

Prepare for Hot Job Roles such as Network Engineer, SysAdmin and IT Security Analyst
Advanced Network Management Training
Data Security Threats & Countermeasures
Design and Develop Wireless Networks
IT Network Support and Troubleshooting
Project Management and Quality Assurance
IT Networking & Security Team Leadership
Explore the Role of IT Systems in Business
Solid Core Curriculum featuring Coursework in Databases, Programming and IT Management
Award-Winning Online Education Platform

Method: Online Degree
Degree Level: Bachelor
Accredited School: Yes
Financial Aid Available: Yes

Learn the Technical Competencies & Soft Skills to Secure a Job in Network Administration
Advanced Routing & Switching with Router OS Setup and Multi-Router Network Management
Modern Network Security Training featuring Threat Assessment and Countermeasures
Design and Setup Local & Wide Area Networks
Enterprise Mobile Computing and BYOD Setup
Network Issue Identification & Troubleshooting
In-Demand Soft Skills including Leadership, Communication and IT Project Management
Online Courses & Degrees Begin Year Round

Wireless Communications Graduate

Method: Online or On-Campus
Degree Level: Grad. Certificate
Accredited School: Yes
Financial Aid Available: Yes
Prerequisite: Bachelor's

Earn a High-End Credential in the Red-Hot Field of Wireless Networking & Telecommunications
Build, Analyze and Secure Wireless Networks, Voice and Data Communications Systems
Design Wireless Business Strategies & Manage Bring Your Own Device (BYOD) Implementations
Explore the Future Role of Wireless Devices in Business (PDA, Smartphone, Laptop & Tablet)
Wireless Network Engineering & Administration
Covers the Most Marketable Skills in Wireless
Attend 95+ Campuses, Online or a Mix of Both
Network Administrator Career Resources