Mobile Development Training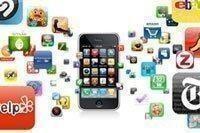 As mobile devices continue to change the way we do business, communicate and access entertainment, the demand for new and innovative mobile applications is growing at breakneck speeds. This increased demand translates to one of the largest skills gaps ever realized - there are simply more mobile development jobs than skilled and qualified developers to fill them. There has never been a better time to learn mobile app development.
Colleges and universities offer a range of mobile development degree programs featuring coursework in Android and Apple iOS application development (by far the two hottest mobile platforms). The best mobile development degrees also delve into the business side of mobile, with courses like mobile app marketing and deployment, as well as mobile media and graphic design. Compare the top-reviewed mobile development courses and degrees in the U.S., Canada and online below.
Top-Rated Mobile Development Degrees
Bachelor's Degree in Mobile Development - Online
Programmers are revolutionizing the possibilities of the mobile application medium, and this creative spirit is the basis of Full Sail University's mobile development online bachelor's degree. This accredited program follows a cutting-edge curriculum featuring the business, marketing, design and development skills to become an Android and iOS application developer, user interface (UI) designer and mobile entrepreneur.
Program Highlights:
Beginner to Advanced Android & IOS App Development Training
Mobile Application Marketing, Sales and Deployment Strategy
Mobile Application Graphic Design Principles and Art Direction
Cross-Platform Game Design Training for Web and Mobile Devices
Mobile Application User Interface (UI) Design and Usability Testing
Showcase your Mobile Apps in a Professional Mobile Developer Portfolio
Learn Java, Objective-C, PHP, MySQL, JavaScript & XHTML Programming
Online Degree
Bachelor
Yes
Federal, State, Military & Scholarships

Related online programs from Full Sail University:
B.S. Web Development & Design
B.S. Graphic Design
B.S. Game Art
M.S. Mobile Gaming
M.F.A. Media Design
B.S.I.T. Mobile Development
University of Phoenix's mobile development bachelor's program imparts the knowledge to become a well-rounded mobile application developer. Students will delve into the essential IT domains - such as systems analysis, web and software development, information security, databases and network administration - while concentrating on the hands-on skills to design, develop and promote cutting-edge apps for today's top platforms: Google Android, Apple iOS and Windows Mobile.
Program Highlights:
Android, Apple iOS & Windows Mobile App Development Courses
Mobile Dev Programming Languages: Java, C# and Objective-C
Develop Websites using HTML/HTML5, CSS, JavaScript and PHP
Web/Mobile User Interface (UI) and User Experience (UX) Design
Website Administration, Hosting & Search Engine Optimization (SEO)
Soft Skills Courses inc. Public Speaking, Critical Thinking & Problem Solving
Well-Rounded Education in the Essential Information Technology Domains
Online or On-Campus
Bachelor
Yes
Federal, State, Military & Scholarships

Related degree programs from University of Phoenix:
A.A.I.T. Programming
A.A.I.T. Web Design
B.S.I.T. Software Engineering
B.S.I.T. Web Development
Master's of Information Systems
Mobile App Development Courses, Degrees & Certificates
Computer School

Mobile App Dev Program

Course Highlights

B.S.I.T. Web & Mobile Development

Method: Online Degree
Degree Level: Bachelor
Accredited School: Yes
Financial Aid Available: Yes

Cross-Platform Application Development for Web, Android, iOS & Blackberry Devices
Learn Marketable Programming Languages including Java, Objective-C and HTML
Use Human-Computer Interaction Concepts to Design Effective Web & Mobile User Interfaces
Software Application Development Lifecycle
Learn Web & Mobile User Experience Design
Develop Database-Driven Business Apps
Systems Analysis and Computer Engineering
Mobile Developer Portfolio and Resume Prep

Method: Online Degree
Degree Level: Master
Accredited School: Yes
Financial Aid Available: Yes
Prerequisite: Bachelor's

Learn to Analyze & Solve Business Problems with Strategic Software Engineering Solutions
Examine Emerging Technology Trends inc. Cloud-Computing & Mobile Device Integration
Advanced Software Usability and UI Design
Select Graduate-Level Programming Courses
Networking, Security and Database Concepts
Software Developer Team/Project Leadership
Software Application Planning and Strategy
Computerworld named CTU "Best of the Best" for its Innovative Online Learning Platform

Method: Online or On-Campus
Degree Level: Associate
Accredited School: Yes
Financial Aid Available: Yes

Java, C, C# & C++ Programming Courses for Web and Mobile Application Development
Develop Websites and Web-Based Apps using HTML, CSS, DHTML, XML and JavaScript
Learn Photoshop, Dreamweaver, Flash, Flex and Illustrator from the Adobe Creative Suite
Advanced Java 2SE Programming Training
Online, Campus or Blended Class Formats
6-Week Online Courses Begin Year Round

B.I.T. Software Analysis and Development

Method: Online Degree
Degree Level: Bachelor
Accredited School: Yes
Financial Aid Available: Yes

Learn In-Demand Systems, Application & Web Programming Languages including PHP, Perl, Java, VB. Net, C+, C++, C#, SQL & Objective-C
Analyze, Design & Develop Innovative Software Systems to Solve Complex Business Problems
Android & iOS Mobile Application Development
Human-Computer Interaction and UI Design
Develop Websites in HTML, CSS & JavaScript
E-Commerce Web Development & Marketing
Develop Integrated Data-Driven Apps with XML
Software Quality Control & Testing Techniques
Customize Curriculum w/ 5-Wk Online Courses

B.S. Game & Simulation Programming

Method: Online or On-Campus

Degree Level: Bachelor
Accredited School: Yes
Financial Aid Available: Yes

Provides the Skills & Connections to Pursue a Range of Game/Simulation Development Jobs
Network with Gaming Giants Vivendi and Universal to Provide Real-World Opportunities!
Mastery of Game & Simulation Programming Skills, Design Principles and Software Methods
Develop Video Games, Corporate Training Software and Crime Scene Reconstructions
Learn Video Game Design for Mobile Devices
Artificial Intelligence Methods & Techniques
Mobile Game Physics Engine Development
E-Learning, Classroom or Blended Format

B.S. Mobile Application Development

Method: Online Degree
Degree Level: Bachelor
Accredited School: Yes
Financial Aid Available: Yes

iPhone Application Development Training
Android Application Development Training
Mobile Game Dev & Simulation Programming
User Interface Design and Usability Testing
Mobile Application Design and Art Direction
Mobile Media Business & Marketing Courses
Successfully Launch & Deploy Mobile Apps
Professional Mobile App Developer Portfolio
Java ME, Objective-C, MySQL & PHP Coding
Online Courses & Programs Begin Year Round
Mobile Application Developer Resources