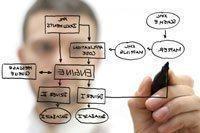 Each year, businesses generate huge amounts of electronic information, driving record demand for talented database administrators, developers and analysts who can manage and utilize this data effectively.
Accredited colleges and private computer schools offer a range of training programs in today's hottest database technologies, including Microsoft SQL Server, Oracle and IBM DB2. Compare the top-rated database courses & degrees in the U.S., Canada and online below.
Top-Rated Database Technology Degrees
Selection criteria for "top-rated" programs based on relevance of coursework to marketplace demand, graduation & retention rates, student-teacher ratio, schedule flexibility and affordability (measured by tuition and availability of financial aid).
BS - IT: Database Management
Kaplan University's IT bachelor's program prepares you for career advancement by providing the knowledge, soft skills and technical competencies to succeed in the modern IT workforce. Students pursuing the database management career focus area will design, support and manage the industry's leading database systems, including Oracle and Microsoft SQL Server.
Program Highlights:
Oracle & SQL Server Database Administration
Database Security, Backup and Disaster Recovery
Integrate Databases with Web/Mobile Applications
Plan and Develop SQL Application Architecture
Business Intelligence Design, Analysis & Reporting
Team Leadership & Effective Communication Skills
Learning Method:
Online Degree
Degree Level:
Bachelor
Accredited School:
Yes
Financial Aid Available:
Federal, State, Military & Scholarships
Database Courses and Degrees
Compare accredited undergrad & graduate degrees, professional certificates and self-paced online courses matching the database administrator career track.
School

Database Training Program

Course Highlights & Certifications

Method: Online Degree
Degree Level: Bachelor
Accredited School: Yes
Financial Aid Available: Yes

Learn Database Design and Administration using the latest Oracle & MS SQL Server Platforms
Data Warehousing and Business Intelligence
Database Development w/ Transact-SQL (T-SQL)
Use Microsoft Office for Increased Productivity
Customize this Program with Hot IT Electives in Information Security, Networking, Software Development, Web/UI Design and more

Method: Online Degree
Degree Level: Master
Accredited School: Yes
Financial Aid Available: Yes

Advanced Training in Business Intelligence and Big Data Analytics
Enterprise Database Design & Management
Big Data Visualization and Reporting
Info Security in the Cloud/Mobile Era
Data Mining and Data Warehousing
Business Process Modeling (BPM)
Soft Skills inc. Team Leadership, Professional Development & Communication

Method: Online Degree
Degree Level: Associate
Accredited School: Yes
Financial Aid Available: Yes

Prepare for Careers as a Database Developer, DBA or Software Application Developer
Develop Data-Driven Computer Systems and Applications using C, C++, C# and Java
Use SQL to Query, Control and Manipulate Data in Cross-Platform Business Apps
Data Security, Backup & Disaster Recovery
Oracle Database Administration Training

Master of Science in Computer Science - Database Systems

Method: Online Degree
Degree Level: Master
Accredited School: Yes
Financial Aid Available: Yes
Prerequisite: Bachelor's

Gain the Skills to Pursue a Career as a Database Designer, DBA or Data Warehouse Manager
Design, Support and Secure Today's Leading Open-Source and Commercial DBMSes
Build and Manage Data Warehouses/Data Marts and Mine for Actionable Intelligence
Foundational Training in Computer Science and Marketable Programming Languages
Validate your Real-World Database Skills via Capstone Projects throughout Program
Find Database Administration Schools
DBA Career Resources