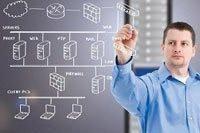 Network Architects plan and design computer networks.
Not to be confused with Network Administrators who manage and support the network, or Network Engineers who build and repair it, Network Architects are responsible for the planning and design of data and communications networks. The responsibilities of these roles will overlap in some organizations, especially in startups and SMBs, however most enterprises and government agencies employ specialized professionals (or teams of professionals) in each position.
In addition to hard technical skills, network architects need to understand the company's business needs in order to design an efficient, secure and scalable network that aligns with strategic goals. With a firm grasp on the business issues, the network architect can begin to craft the network blueprint, carefully considering aspects like which hardware, software and cable infrastructure will be best suited to the project at hand. A high-level position, most network architect jobs require 5 - 10 years of relevant experience, strong business acumen, and at least a bachelor's degree in computer networking or a related field of study.
Accredited universities and private computer schools offer a range of courses and degrees to prepare you for a career in network architecture. Compare network architect training programs online and in your area.
a.k.a. Enterprise Architect | Network Designer | Computer Network Architect | Network Infrastructure Architect
Skills & Responsibilities
Network architects need a variety of technical and business skills to excel in this role. Here are some typical day-to-day activities and marketable skill sets for network architects:
Design computer networks, including local/wide area networks (LANs/WANs) and intranets.
Compare and purchase network hardware, such as routers, switches, modems and firewalls.
Research and implement network software, such as network drivers and monitoring applications.
Work closely with the CTO and other executives to align network design with organizational goals.
Design and integrate VoIP (Voice over Internet Protocol) and other telecommunications systems.
Supervise network engineers, network admins and other workers in network setup & configuration.
Possess abundant soft skills, such as critical thinking, verbal/written communication and leadership.
Continuously evaluate emerging network technologies to maximize performance, security & efficiency.
Periodically test and evaluate network performance, and adjust and redesign network where applicable.
---
Network Architect Salary
The average salary for network architects in the U.S. is $112,000.
| | |
| --- | --- |
| Network Architect Salary $112,000 | |
Average salaries for network architects and related IT career paths:
Network Administrator: $69,000
Network Engineer: $82,000
Cisco Network Engineer: $94,000
Network Architect: $112,000
Enterprise Architect: $112,000
Cisco Network Architect: $113,000
IT Security Systems Architect: $133,000
Chief Network Architect: $144,000
Top paying U.S. cities for computer network architects:
San Jose, CA: $137,550
Portland, OR: $130,170
San Francisco, CA: $ 129,980
Edison, NJ: $128,830
New York, NY: $ 121,250
Austin, TX: $ 120,390
Sources: U.S. Dept. of Labor, Bureau of Labor Statistics | Indeed.com
---
Education Requirements
Beyond the requisite job experience – typically 5+ years in a hands-on networking role – network architects typically need at least a bachelor's degree on the education front. Due to the demand for business knowledge in this role, some organizations prefer to hire network architects with a Master's degree or MBA. Desirable majors for this position include network design or administration, information systems management, computer science or a related IT discipline.
In-demand technical skills to look for in a network architecture degree program include network design and modeling, information security, telecommunications, cloud computing, virtualization, software engineering, technical writing, and information systems management. A network architect learning plan should also cover skills in popular vendor technologies, especially those from industry-leader Cisco Systems.
A major factor in becoming a network architect is understanding the business side as well as the technical, and being able to analyze and express how these two worlds interact. Thus, a strong set of Soft Skills is key to getting hired – and succeeding – in this role. Marketable soft skills in network architect training programs include critical thinking, creative problem solving, effective verbal and written communication, project management and leadership.
The subject matter in computer networking training programs works well in online learning formats, especially those that employ the latest digital simulations which can accurately mimic network hardware configurations and real-world scenarios.
Compare training programs that align with network architects' education requirements.
---
Training & Degree Programs
Browse degrees from accredited universities, targeted certification programs, and self-paced online courses matching the network architect career path.
IT School

Network Tech Training

Course Highlights & Certifications

AAS - IT: Network Administration

Method: Online Degree
Degree Level: Associate
Accredited School: Yes
Financial Aid Available: Yes

Includes Certification Preparation for:

CompTIA A+, Network+ & Security+
Cisco Certified Network Associate (CCNA)

Prepares Graduates for Entry-Level Careers in Networks and Systems Administration
Windows Desktop/Server Support Training
Cisco Network Design and Administration
Network Security and Computer Forensics
Intro to Web Development & Programming

BS - Network Technology: Microsoft

Method: Online Degree
Degree Level: Bachelor
Accredited School: Yes
Financial Aid Available: Yes

Includes Certification Preparation for:

Microsoft Certified Solutions Associate (MCSA): Windows Server 2012
CompTIA A+ and Network+

Manage the Latest Microsoft Business Solutions
Install and Configure Windows Servers/PCs
Advanced Network Design and Administration
IT Project Management and Team Leadership
Explore Hot IT Topics in Enterprise Mobility, Cloud Computing & Cyber Security

Method: Online Degree
Degree Level: Master
Accredited School: Yes
Financial Aid Available: Yes
Prerequisite: Bachelor's

Prepare to Lead Organizations in the Planning, Development, Operation & Management of IT
Applied Managerial Accounting, Economics, Finance, Marketing and Decision-Making
Impact of IT Innovation on Strategy & Operations
Use Tech to Foster a Competitive Advantage
Network, Systems and Database Management
Technology Project Management and Leadership
Find Network Administration Schools
---
Network Architect Jobs
Your network architect training and experience may qualify you for a range of positions. Browse and apply to:

---
Certifications
IT certifications are an ideal way to prove your skills in the latest computer networking tools and technologies. Desirable certifications for network architects include:
Cisco:
CCDP: Cisco Certified Design Professional
CCDE: Cisco Certified Design Expert
CCAr: Cisco Certified Architect
CompTIA:
VMware:
---
Job Outlook
The Bureau of Labor Statistics forecasts 9% job growth for network architects from 2014 to 2024 - faster than the 7% average for all occupations. The increasing diversity of computing networks – driven in large part by the proliferation of mobile and wireless devices – is a key demand-driver for network architects. Computer networking needs in the rapidly growing health information technology (health IT) sector will also create numerous job openings for network architects with skills in this space.
The widespread adoption of cloud computing – which allows organizations to store and access data, applications and other IT services online – will temper demand for network architects, as network services that were traditionally built and managed in-house are outsourced to cloud-based service providers.
Source: U.S. Bureau of Labor Statistics' 2016-2017 Occupational Outlook Handbook
---
Related Careers