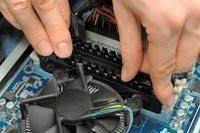 As long as we continue to use technology to conduct business, demand for the technical support professionals who keep it running smoothly will flourish.
Universities, colleges and private computer schools offer a range of programs in marketable tech support skills, such as help desk and call center management, Windows, Linux & Mac systems administration, PC repair, mobile device support and networking. Compare technical support courses, accredited degrees and certificates online and in your area below:
Featured Technical Support Degrees
A.A.I.T. Information Technology Support
University of Phoenix's technical support associate program covers the concepts and real-world skills to support hardware and software at the enterprise level. Through hands-on labs and expert led online courses, students will gain experience in key tech support domains, including hardware and PC repair, software and operating systems, network administration and information security. This program also delves into highly marketable soft skills like customer service and creative problem solving.
Program Highlights:
Enterprise Desktop PC and Server Maintenance
Deploy and Configure Computer Hardware and Software
Earn 5 Microsoft Office Specialist (MOS) Certifications
in Word, Excel, Access, Outlook and PowerPoint
Soft Skills Training in Customer Service, Conflict Resolution,
Verbal & Written Communication, and Critical Thinking
Attend Select IT Courses for Targeted Learning Goals
Learning Method:
Online or On-Campus
Degree Level:
Associate
Accredited School:
Yes
Financial Aid:
Federal, State, Military & Scholarships

Related Degree Programs at University of Phoenix:
A.A.I.T. Network Support
A.A.I.T. Cisco Networking
B.S.I.T. Information System Security
Master's of Information Systems (IS)
Bachelor's - Network & Communications Management
DeVry University's Network and Communications Management Degree provides students with the expertise to design, implement, secure and support computer networks and telecommunications systems - the lifeblood of the modern enterprise. This program covers key networking domains, such as Voice over Internet Protocol (VoIP) systems administration, cyber security and Cisco network management. Graduates possess the skills and knowledge to pursue a range of IT job roles, including network administrator, information security analyst and technical support specialist.
Program Highlights:
Advanced Network Design and Administration
Wired, Optical and Wireless Communications
Converged Networks - Voice, Data and Imaging
Advanced Network Security and Penetration Testing
Deploy, Configure and Support Modern Operating Systems
Choose from 95+ U.S. and Canadian Campuses, Online or Blended
Learning Method:
Online, On-Campus or Blended Learning
Degree Level:
Bachelor
Accredited School:
Yes
Financial Aid Available:
Federal, State, Military and Scholarships

Related Degree Programs at DeVry University:
Associate - Network Systems Administration
Bachelor's - Computer Information Systems
Bachelor's - Technical Management
Master's - Network & Communications Mgmt.
IT Support Training Programs
These campus and online programs feature coursework, certificates and skills training matching the technical support specialist career path and education requirements.
No schools currently match this criteria.
Click here
to search similar schools.
Find Technical Support Schools

IT Support Specialist Resources